Commercial Services
Pet Waste Station, Common Area Cleaning, and Commercial Waste Services in Parrish and surrounding areas!
DoodyCalls is the industry leader in Pet Waste Management, with over 20 years of experience servicing communities we are proud to operate in Parrish, Palmetto, Lakewood Ranch, Bradenton, and Sarasota. DoodyCalls is a turn key pet waste solution covering every aspect of pet waste management to ensure your communities success in eliminating issues surrounding dog poop.
Contact us today at (941) 841-1840 or request a FREE quote online.
We also provide complimentary site surveys. Email today to request a *FREE* site survey of your community, suncoast@doodycalls.com. Your site survey will include a custom map of your community that maps out all current stations with pictures as well as proposed station locations, frequency of service, and a customized pet was management plan created specifically for your community.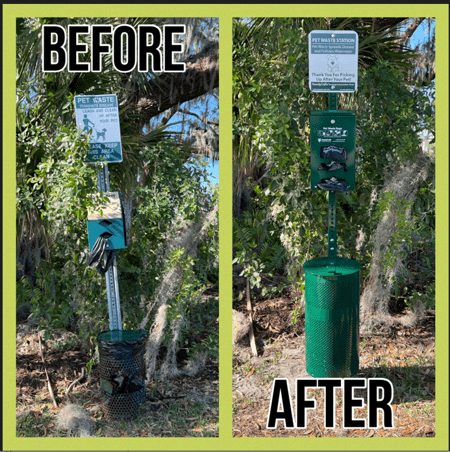 Pet Waste Stations – Sales & Installation

Pet Waste Station Service – Let our full service Pet Waste Managment system keep your community's mind at ease.
Removing the existing waste can liner and replacing it with a new liner.
Restocking the litter bag dispenser as needed
Inspecting the station for functionality and defects that may cause a service, aesthetic, or safety concern to the community.
Communicating any issues to the Manager.
Disinfecting the station to keep everyone healthy and ensure there are no bird droppings caked onto your station.
Removing waste left on the ground within a 6-foot radius of the pet waste station.
Trash Service – Let us take out the trash while we are at it – one more thing off of your teams plate!

Common Area Cleaning – Do you have community areas and dog parks that tend to accumulate pet waste? We can help!

Bag Distributor – Our bags are the best in the industry for a competitive price. Our "auto delivery" system makes it so you can set it and forget it while the bags just keep showing up when you need them!

Residential Service - Poop scooping yards in your community for individual customers.
For a complete list of community products and services offered, check out Keeping Communities Clean
In addition to pet waste solutions, we also have a couple other unique things to offer our Community Managers:
Lunch& Learn Opportunities: We are certified to provide you and your company's managers with continuing education units (CEU) through our Lunch & Learn Program. We provide lunch and you learn – it's that simple. And because we believe in the power of education, we offer this at NO COST!

News Letter Articles: Over the years we have found that communities who send out news letters are often looking for something a little different to keep their audience engaged. We have several drop in news articles that we can provide that are interesting and also educate the readers about the importance of Pet Waste Management.
Click here to sign up for our newsletters today!
DoodyCalls® on the Suncoast aims to eliminate all dog poop on your property. We work for various commercial properties, including:
Multi-Family Communities
HOA's
Senior Living
City Parks
Dog Parks
Veterinarians
Groomers
Doggy Daycares
Pet Supply Stores
Local Animal Rescues
Pet Friendly Hotels
Restaurants
Proudly Serving Commercial Services In The Following Areas-
Parrish
Palmetto
Ellenton
Lakewood Ranch
Bradenton
Sarasota
Riverview
Apollo Beach
St. Petersburg
Clearwater
And Surrounding Areas!
It's our "Doody" to pick up doody! Call (941) 841-1840 or click here for a FREE quote!