Have you ever wondered what causes grass to die after your dog pees? Maybe even Google searched "how to stop my dog's urine from killing my grass?" Well, you've come to the right place! 
Why Does Dog Pee Kill Grass?
Dog urine is rich in nitrogen, which is known to kill grass when concentrated amounts collect over time. The acidity of dog urine also contributes to the damage it causes. 
The effects of dog urine on your lawn are similar that of a nitrogen-rich liquid fertilizer. A small amount of fertilizer makes your yard healthy, but too much can be damaging to the growing vegetation. To help prevent these unsightly burns, you will need to reduce the amount of nitrogen that comes into contact with your grass.
Natural Ways to Prevent Dog Urine From Killing Grass
Natural urine burn spot prevention and treatment can be approached two main ways: through lawn care and dog heath & behavior. 
HOW TO FIX DOG URINE SPOTS IN YOUR BACKYARD
There are a number of techniques that pet owners can use to minimize the negative effects of dog urine in their lawn. We've compiled seven of the most effective methods below: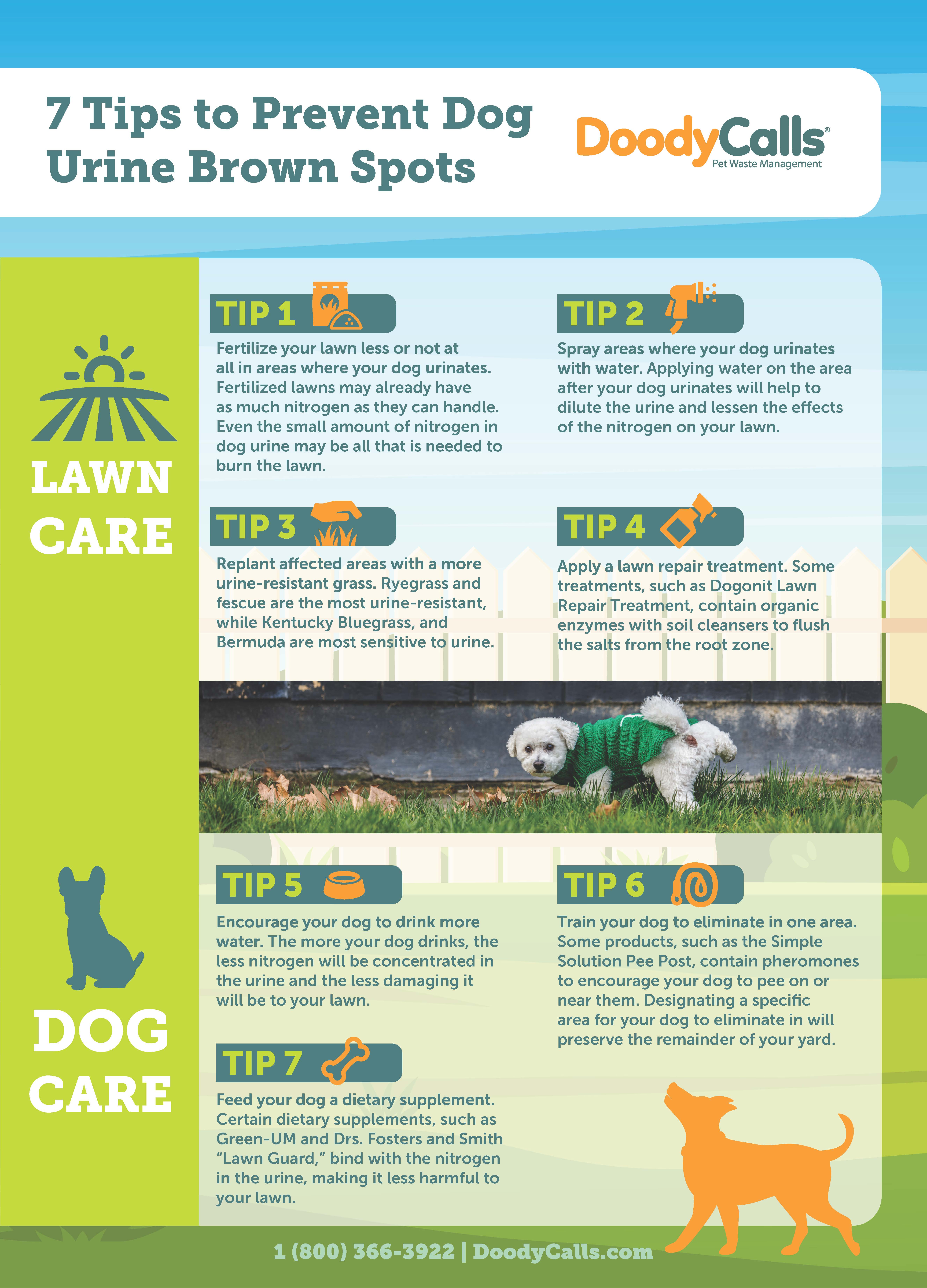 WILL GRASS GROW BACK AFTER DOG URINE?
The short answer: yes. But, it depends on the size of the burn or brown spot as well as the severity to say how long it might take or if the grass will grow back on its own.
TOP GRASS TREATMENT PRODUCTS FOR DOG URINE
Lawn repair treatments such as Dogonit, are applied proactively to prevent burns and contain organic enzymes with soil cleansers to flush salts from the root zone.
Other products, such as Pennington Seed, aid in the regrowth of grass in areas where your dog's urine has already reeked havoc. 
HIRE BROWN SPOT TREATMENT PROFESSIONALS
Tired of unsightly brown spots on your lawn from your beloved dog? We can help - call DoodyCalls today at (888) 659-6558! Our Brown Spot Treatment* offers a chemical-free temporary cosmetic solution to hiding those urine burns.
*Available only at select locations.