About DoodyCalls of Western Connecticut
Pet Waste Removal Company Serving New Milford & Western Connecticut
Welcome to our pack! At DoodyCalls of Western Connecticut , we handle the pet waste removal for countless homes and businesses throughout Western Connecticut, successfully servicing communities from Kent CT to Milford CT.
Our team members are dependable and detailed and are committed to creating a residential and commercial pet waste removal solution that'll handle the clean-up of any unwanted gifts on your property and improve the health and well-being of you and your four-legged family member.

We can handle any:
Residential dog poop removal
Brown spot treatments
Commercial dog pop removal
Pet waste station installation and management
Goose Poop Removal
We value our customers greatly and always take the time to deliver a customer experience like none other. Whether you don't have the time, tools, or stomach to handle the mess, we have you covered!
Meet Our Pet Waste Removal Team
Our team at DoodyCalls of Western Connecticut is second to none! We're dog enthusiasts who are always dedicated to ensuring that your pup has a clean environment to enjoy and do his business in. We also love working with people, so we're always committed to going above and beyond to complete a dependable and detailed service for you and your family, your business, or your community.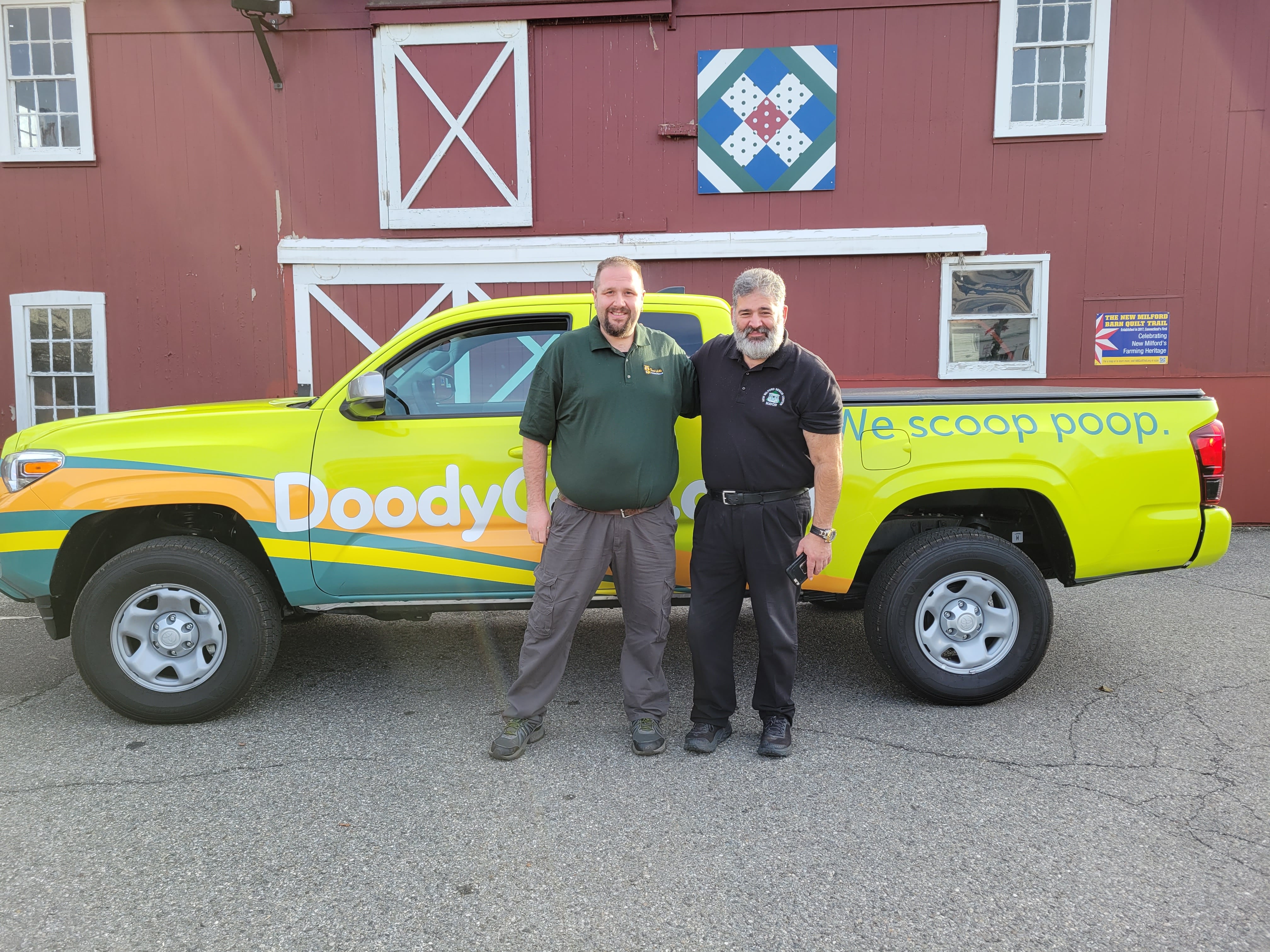 Owner David Harvey (pictured above with Mayor Peter Bass of New Milford CT) and his pups, JD and Wilbur, run the show at DoodyCalls of Western Connecticut . With his diverse experience in both pet care and running businesses, David has been able to create a pet waste removal company that is committed to making the world a better, cleaner place.
In just a short time, David has already built local relationships with clients and has embraced DoodyCall's values and mission to put the customer first and remove pet waste with exceptional customer service!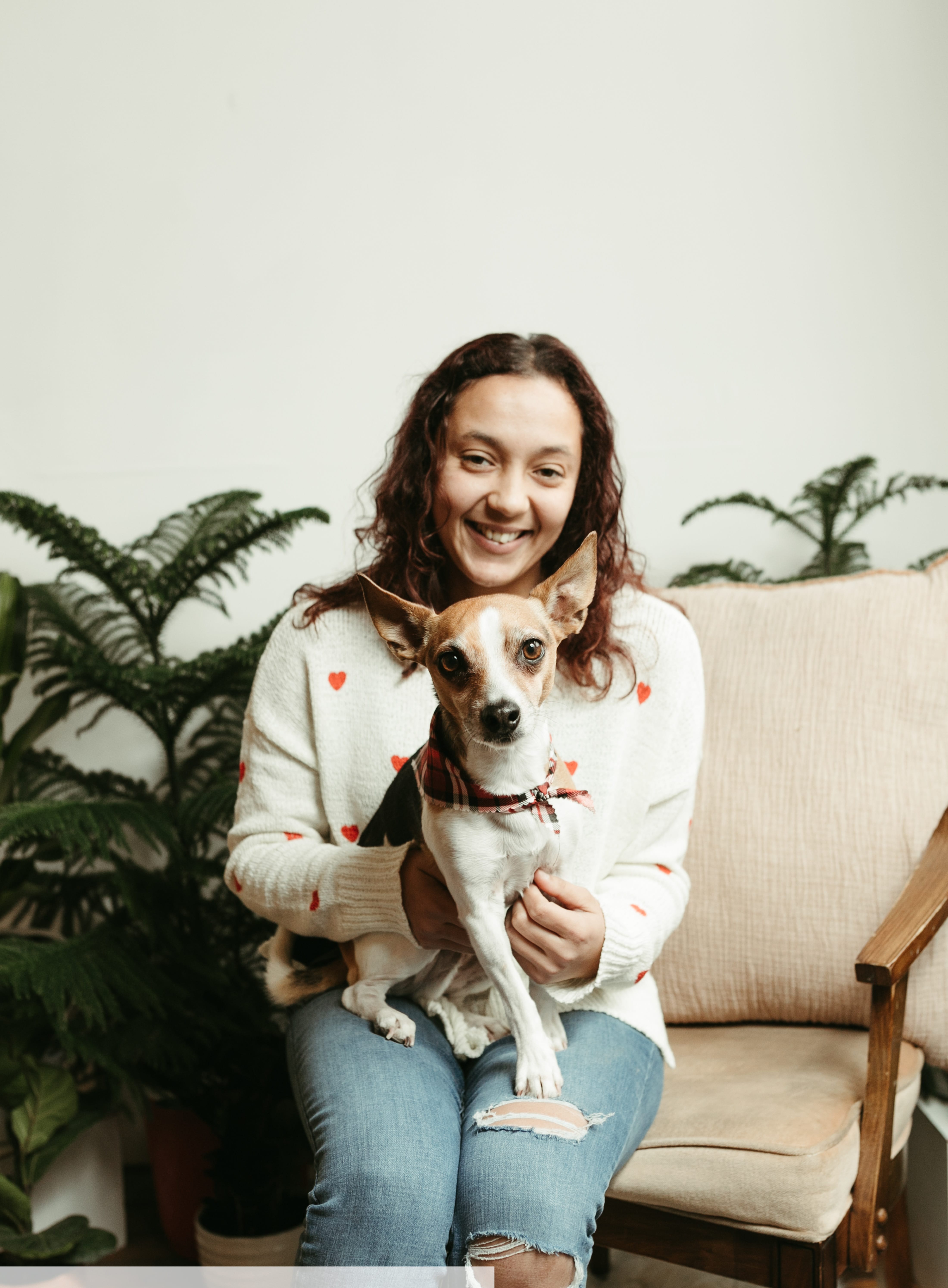 Jasmin Cruz helps manage DoodyCalls of Western Connecticut by running the business's daily operations and training new team members with the help of years of pet care experience and team building. A local to New Milford, Jasmin is also the owner and operator of Unleashed Doggie Daycare in New Milford. When she's not in the office, she's likely on the move with her Jack Russel terrier, Jack!
Gabe Stewart is our local pet waste technician. You can always count on a smile when Gabe is around, spreading his positive cheer and embracing each and every dog he sees. As an avid animal lover, Gabe is also a supervisor at Unleashed Doggie Daycare – he can't get enough of being around dogs! You can count on Gabe to make sure your yard has been serviced with a smile.
A Team Dedicated to Helping You Take Control of Your Space
The presence of pet waste can completely ruin a beautiful residential and commercial landscape, so our team will remove it on a routine basis. With our help, you won't have to worry about stepping over land mines or picking up the mess yourself ever again!
Customers turn to our Connecticut pet waste removal services because:
We're locally owned and nationally backed.
We're able to fit into any lifestyle with flexible and convenient scheduling.
We're committed to your 100% satisfaction guarantee.
We're always honest, upfront, and competitive with pricing.
Our prompt, respectful, and friendly team at DoodyCalls of Western Connecticut wants you to rely on us for dog poop clean-up solutions and waste stations that help you regain control of your outdoor space!
Don't wait any longer – give us a call at (203) 693-9523 to book your pet waste removal services or request your FREE quote from our New Milford team!