Why Choose DoodyCalls?
Gate Latch Verification, Pre-Service Notifications & More!
The Only Poop Scooping Service With These Features:
A locally owned and operated dog poop pick up company
100% Satisfaction Guaranteed: If you're unhappy with your poop scooping service for any reason, just let us know within 24 hours and we'll fix it!
Pre-Service Notifications: We remove the element of surprise by scheduling your visits the same day of the week and time. In addition, you'll receive a text or an email letting you know we are on our way.
Gate Latch Verification: Rest assured with a real-time photo of your latched gate at the end of every visit.
Extensively Trained Dog Lovers: Our techs are prompt, courteous, and have been thoroughly trained to keep your dog safe.
Servicing from Springfield to Dayton down to Cincinnati. With flexible dog poop pick up services, you can schedule bi-weekly, weekly, every other week or monthly service. Do you need a one-off service? We can do that, too!
Exclusive Gate Latch Verification
The safety of your furry family member is our top priority. As owners of two shiba inus, we know how critical a latched gate is. That is why we provide peace of mind with a Gate Latch Verification photo after every clean.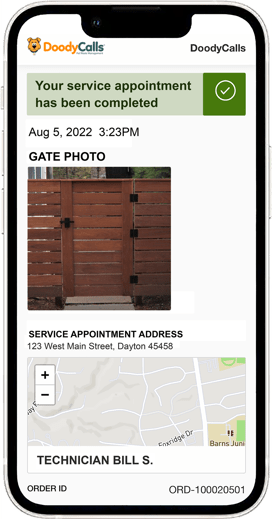 Simply click the status link on your text or email notification from DoodyCalls and if you have a fenced in yard, it will update with a photo of your latched gate after your clean is completed.
While In Your Yard, We Look For:
Gates left open
Doors/windows open
Holes in your yard
Abnormal feces
Anything that doesn't look right in your yard!
Add-On Services
Odor Eliminator
To Clean Front Yard Too
Oversized Yard
Brown Spot Treatment
Service Interruptions
Service Interuptions
For the safety of our employees, we do NOT scoop in lighting or severe snowstorms. Rain/Heavy rain will not stop us from keeping you 100% satisfied with our service. We will do our best to make up any missed services due to severe weather the following business day. If we are unable to be makeup the service, that services fee will be waivered.
Check out our tail wagging testimonials here! Click here to receive 30% off your first four visits. Coupon code (NEW30) must be mentioned at the time of checkout.