Small details make a huge difference in our experience of the outdoors. Was the day sunny and peaceful or cloudy and chilly? How many neighbors did join the sidewalk scroll? Was your dog happy to walk you again to the nearest dog waste station?
Some days are misses, others are wins but every day is a new day. If we want to make this experience more pleasant by design, there are a few simple steps we can take as a pet-loving community:
Be nice to your neighbors and their dogs
Share responsibly the common spaces without leaving anything behind
Help your HOA board choose a reliable pet waste station service and
Make the stations a continuation of the scenery
This is probably how the story behind Carolina Preserve's station refurbishment project started. I was not at their HOA board meeting, neither was their landscaper Mike Ferrell with Hansley's Inc. but he gave me the news about the board's decision to make the dog waste stations look new again. What a fabulous idea!
Once a sought-after amenity, their Dogipot stations had now the usual signs of vandalism and aging, such as dents, rust, and discoloration. Remodelingthem meant improving pet waste station functionality and aesthetics at a lower cost vs. station replacement. It was also the more environmentally friendly and faster solution, considering that less scrap metal and no concrete would end up in landfills and no digging would be required.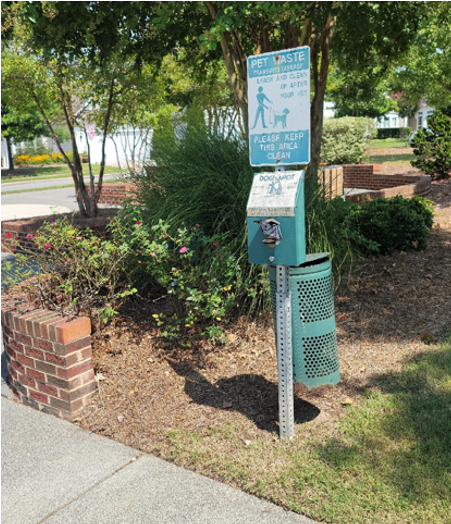 Remodeling with DoodyCalls station parts is good for:
FAST-AGING DOG WASTE STATIONS
While some station brands, like the FidoHouse in Carolina Preserve, are made from rusting steel, the material used for DoodyCalls station can, bag dispenser, and sign is 50% thicker aluminum than the industry standard. To ensure that our stations look new longer, we also apply seal rinse before powder coating the station parts. This choice of smart materials and surface protection benefit communities' bottom line.
POORLY DESIGNED DOG WASTE BAG DISPENSERS
How many times has someone in your community complained about empty dog waste bag dispensers? This could not be your pet waste management company's fault and your community may not need two times a week station service. The insufficient number of shelfs for boxes of roll bags inside the station dispensers is to blame. This design flaw has been resolved with adding 4 shelves inside the DoodyCalls roll bag dispenser model (1 for storing an extra box of bags and 3 for dispensing bags). Now the dog walkers in Carolina Preserve don't have to worry that they would run out of doggie bags before the next station service.
USER UNFRIENDLY DOG WASTE BAG DISPENSERS
Picture this: you finally get to a dog waste station with your four-legged buddy and pull one roll bag out. Tearing off a roll bag is an art, or that's what you think each time you end up with 2 or 3 bags instead of 1 because they are so hard to tear off on the perforated line. This doesn't have to be the case. The bag openings of DoodyCalls dispensers act as a cling wrap cutter box - a smart design feature that saves users time and frustration.
STATION CANS OBSOLESCENT BY DESIGN
The average station can is made to be replaced when the station lid breaks because it is attached to the can. Why? Station can lids are easily damaged due to misuse or vandalism, and if they are not replaceable, a whole new station can is needed. This makes no economic or environmental sense so we designed our can lid differently. It can be attached to any station post with an existing station can.
"SCARY" STATION SIGNS
When you pass by another station sign telling you that you are breaking the law each time you forget to use a doggie bag, are you scared? No-o-o-o! Because it is one of these laws that no one enforces (except the neighbors). Don't take me wrong. We all want to do the right thing for our furry babies even when they are grown up and don't need a diaper. This is why DoodyCalls has proudly displayed the baby dog Doodle on station signs, reminding people with dogs when their love story began.
Our phone number is also on the station sign in case you want to give us a call and complain about the neighbor's dog or an overflowing station. (I am kidding about the neighbor's dog… seriously, talk to you neighbor or send them the bill for your scooping service.)
As you may have gathered, our major is dog waste management, and we minor in dog waste station complaints, so don't be a stranger. If you are a small, boutique landscaping company considering delegating pet waste management services in order to focus on fun landscaping projects, DoodyCalls may be the right fit for you.
We would love to chat about anything dog waste related that keeps you up at night. Who knows, this could be the beginning of a true partnership, like the one we have with Hansley's.
When I asked Mike Ferrell a few days ago what he values most in our relationship, he commended our "service dependability and quick response." It was great to hear also that several of Carolina Preserve residents have approached him with comments on how nice the remodeled stations look and how they don't run out of bags anymore.
Cheers to happy endings and new beginnings!
---
Keeping the original station post intact and replacing the station can, bag dispenser, and the station sign with DoodyCalls aluminum station parts as needed.