About DoodyCalls® of Central MD
The Inside Scoop on Our Dog Poop Removal Services!
Dogs offer comfort, companionship, and joy. They can also leave a mess in your yard. If you are tired of dealing with dog poop, DoodyCalls® of Central MD is your solution. We will eliminate those unsanitary and yucky piles of poo in your yard with urgency and efficiency. Whether you are a residential pet owner, commercial property manager, or homeowner's association president, we can provide dog poop relief at a cost-effective price.
Our premium pooper-scooper services include:
Deodorizing services
Brown spot treatment
Community pet waste removal
Pet waste station installations
We are committed to keeping the properties we service poop-free – all year long. Our franchise network cleans up more than 10 million doggie deposits every year. We're proud to be the premier pet waste management company and franchise of our kind. Let us save you time and energy by cleaning up your landscape with recurring visits.
Meet Our Pet-Friendly Team
General Manager- Clifton D. Moffatt
DoodyCalls® of Central MD is locally owned and operated – and ready to serve our community. Our General Manager, Clifton D. Moffatt, is the proud parent of two children, four dogs, and three cats. He has over 30 years of retail leadership experience and views working DoodyCalls as a "dream career." Clifton shares our company's core values, which emphasize integrity, service, leadership, and respect. He appreciates the opportunity to apply his elite leadership skills to provide a much-needed service that helps pet families and the environment.
Sales Manager- Jason Hughes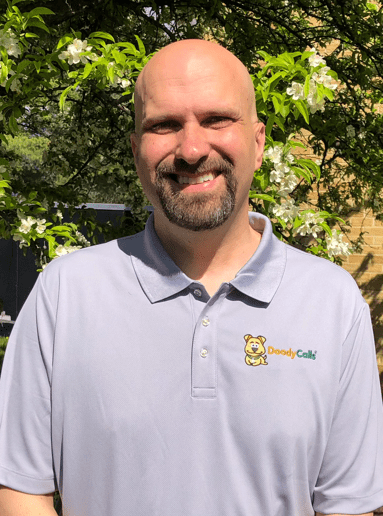 Jason Hughes is our Sales Manager. As a Virginian native, Jason has worked in retail for most of his career. His first job was stocking shelves at 15, and he incrementally worked his way up the retail ladder – becoming a store manager for multiple businesses. Jason refers to DoodyCalls as a big family and enjoys helping restore clean yards throughout the local Central MD community.
Ready to book dog poop removal services? Call (301) 701-3143 or contact us online today!