Day in the Life: DoodyCalls Pet Waste Service Technician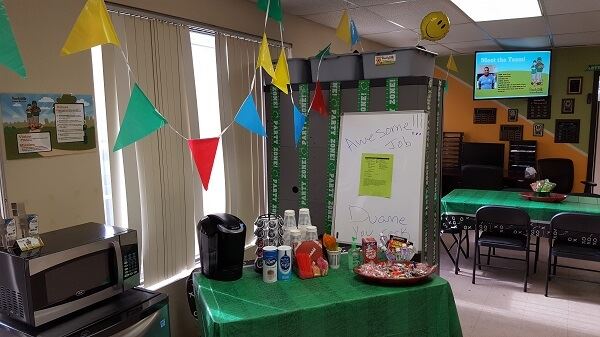 6:45am – Arrive at the office looking smart in a branded DoodyCalls' green polo shirt, cap and khaki pants. Don't forget your most comfortable pair of work boots and fitness tracker! You'll be getting your steps in today!
6:50am – Review your daily route with the Manager on Doody (did you see what we did there?). Pay especially close attention to the notes section where you'll learn about each customer's preferences.
6:55am – Stop by the employee "Wow Table" to grab a complimentary treat and coffee. We always go above and beyond to "wow" our customers so management likes to provide us with a "wow" experience as well!
7:00am – Pick up your supplies. Grab the sanitizing spray, pooper scooper & rake, brown spot treatment, deodorizer, DoodyCalls pet waste bags, DoodyCalls pet waste stations, and of course, pockets full of dog treats!
7:05am – Look over your branded truck to ensure that it's fully stocked and the gas

is at an acceptable level. Program your stops into the GPS and you are good to go! Each route has been created for optimal efficiency and density.

7:20am – Arrive at your first stop. Quickly review your notes for this home, making note of the gateand dog details. Wave a friendly hello to the owner and off you go. So as to prevent missed waste, clean in a grid-like pattern. Look for the unusual on the terrain and in the waste. Our
customer's appreciate being notified of unusual dog poop findings as this is typically the first sign of a potential health concern. You can even provide them with a sample for the vet's office! Finish the stop by disposing of collected pet waste as preferred by the owner, hanging a yellow tag on the door and then beginning the crucial foot ware sanitation process to ensure that no dangerous bacteria is ever tracked from one yard, into another.

12:00pm – Take a much deserved break at a local eatery, or one of your favorite dog parks to eat lunch. Animatedly pump sanitizing gel on your hands so as to avoid disgusted stares. Leave only after handing out doggy treats to the many happy four-legged customers hanging out nearby. Don't be surprised if they try to follow you out.

1:00pm – Drop in on your next community to perform common area cleanings. Stop at each pet waste station to refill pet waste station bags and empty out the receptacles and replace

liners. Our technicians are also trained on pet waste station installation and repair. We always call Miss Utility first to ensure that each installation is done safely!

2:30pm – Drive back to the DoodyCalls office and clean up your truck. Make note and return any unused inventory. Check the truck's fluids and immediately alert the Manager on duty of any auto trouble you may have had during your route. Ensure that your truck is still in sparkling condition. We pick up poop, but that doesn't mean we don't do it in style!
3:00pm – Head out for the day knowing that you did your part to make our customer's lives easier, save them time, and keep our waterways clean. Well done! Compliments have already begun streaming in because you not only put in an honest day's work, but you also "wow'd" our customers by going above and beyond during your route.