From student loans to picking up poop in yards, this is our pooper scooper story
Most people don't wake up in the morning saying, "You know what? I want to clean up dog poop for a living!" So, I thought it would be fun to tell you how I got started in the dog poop clean up business.
It all began with a dream
About 20 years ago, my girlfriend (now wife) Susan and I wanted to start a business together. We thought of a lot of different ideas. After bouncing around ideas, we had a moment of clarity. Poop! Poop was the answer.
No one we knew liked picking up dog poop
People didn't and never will like picking up dog poop in their yard. It's stinky, time-consuming, and potentially messy. This is why we thought scooping poop would be such a success…though my future mother-in-law wasn't so sure.
We believed in the idea and gave it all we had
We felt in our hearts that this was our chance. We could create a business together that made the world a happier and healthier place by picking up what dogs left behind.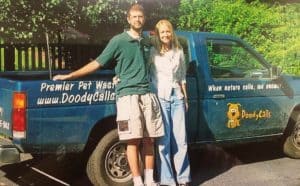 We were so excited it was all we talked about. But we also had very little startup capital. We both had student loans. Susan still lived at home. And, I shared a small apartment.
So, we did everything ourselves. I made our first website and Susan drew our first logo. We spent Friday date nights at Kinkos making flyers. Saturday, we passed them out… to everyone possible.
Guess what?…. nobody called
Just when all seemed lost, we received a voicemail from a person that wanted to buy a poop scooping gift certificate for his friend. He thought giving the gift of a clean backyard would be the perfect housewarming present.
I remember when I returned the call, I sat on the floor next to Susan's bed. My voice shook a little bit. This was our first customer and we wanted to sound professional. When it came time to remove the poop from their backyard, we arrived with neatly pressed shirts. In hand, our cutting-edge pooper scooper technology: a cardboard box and a hand trowel.
It was a cold winter day and there was snow on the ground. The owners watched in disbelief as we scoured the yard for their dog's poop.
We had a slow start, but soon, scooping poop was part of my daily routine
As time went on, I found myself scooping poop from yards before and after work. Dog owners were probably laughing at me in my suit and tie. While my co-workers were trying to figure out why my Subaru smelled like dog doo.
Today, we're the #1 dog poop clean up and pet waste station service business
Because of our team's commitment and the faith that our customers put in us, we were able to grow our dream. DoodyCalls is one of the largest dog poop clean-up companies in the world. We have locations in 20 states. Our services includes dog poop clean up for dog owners and helping to manage pet waste for commercial properties by picking up dog poop in common areas  and servicing pet waste stations.  We also design and sell our own pet waste stations and dog poop bags.
While it may have sounded funny at first, we were able to achieve our dream of turning pet waste pick up into a national company. As we head into the new year, I am confident you can turn your dreams into reality, too.
Thank you for being an important part of our story,
Jacob D'Aniello
Founder